How to Access APU Library Databases
All APU Library databases can be accessed through the Libraries' web site. To get to them, go to the APU Libraries home page, then click on "All Databases."
You can access databases by title using the alphabetical links, or you can use the subject menu to see a list of databases recommended for your topic.
Recommended Databases for Organizational Leadership
Note: The databases below are most useful for business, management, and leadership research. If your topic deals with education, nursing, military and government, or theology, you may find other databases more helpful. Use the "Choose databases by Subject or Major" drop-down menu on the "All Databases" page to locate the best databases for your topic.
Often, databases will include the full text of the articles and documents that appear in your search results. However, database publishers may not always have the rights to reprint the full text of some articles, and you will have to do a bit of searching to locate the full text.
The Full Text Finder can save you time in this process--just click the "Full Text Finder" button under the article citation.
The Full Text Finder window will show you whether APU owns a copy of the article you need:
In this case, APU has a print copy, as well as an electronic copy available through the Sage database. Clicking on the "Full text available from Sage" link takes you right to the full text of the article: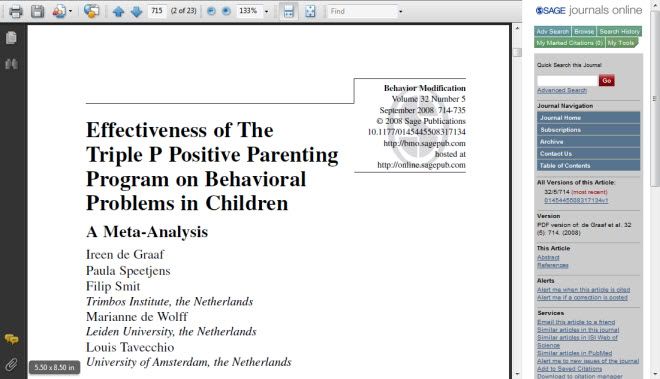 If the article is only available in print, you will need to come in to the library to make a photocopy. Regional Center and online students may use the ArticleReach link to request a free, scanned copy of the article.
If the Full Text Finder indicates that APU does not have a copy of the article that you need, you can use the ArticleReach service to request a free, scanned copy from another library. Most requests will be filled within 48 hours; if your request takes longer, the library will contact you. For more information on ArticleReach, please read our guide "How to use ArticleReach to Request Articles."
Finding Full Text Articles - Video Tutorial