Working on Your Thesis or Dissertation?
Copies of the APU Style and Format Handbooks for Doctoral Publications and Master's Theses, as well as the Institutional Review Board Handbook, are available through the APU portal, home.apu.edu.
If you have questions about formatting or submitting dissertations and theses, please contact Janice Baskin, Director of Graduate Publications (626-815-6000, Ext. 5266, jbaskin@apu.edu).
For research assistance, please contact the subject specialist librarian for your discipline.
Print Copies of APU Dissertations and Theses
The most effective way to search for print copies of dissertations, theses, and capstone projects by APU alumni is to use the APU library catalog. If you know the name of the author or the title of the dissertation, you can do a keyword search for those.
Otherwise, use the advanced search tab to search for the name of the school in which the student was enrolled as "Author," and the words "dissertation," "thesis," or "capstone" as "Title":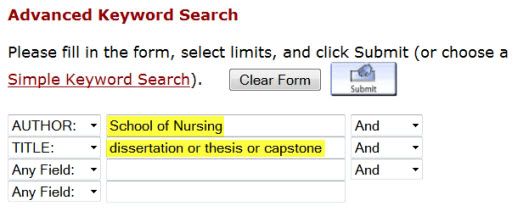 The APU Libraries keep two copies of all doctoral dissertations and capstones, all master's theses, and some undergraduate capstone projects. One "Library use only" copy is kept in the Thesis Collection in Marshburn Library, and one circulating copy is kept in the folio collection of the most relevant library (e.g., circulating D.Min. dissertations are kept in the Stamps Theological Library, and Ed.D. and Psy.D. dissertations are kept in the Darling Library).
You can use these searches to get started:
Electronic Copies of APU Dissertations
Electronic copies of most APU dissertations can be downloaded from the ProQuest Dissertations and Theses database. Dissertation authors are responsible for submitting their documents and setting download permissions, so not all APU dissertations will appear in the database.
To browse the list of APU electronic dissertations, enter "Azusa Pacific University" in the search box, and choose "School Name/Code" from the drop-down menu: